Friday dinnertime
Ah Friday evening... my favourite time of the week... especially when there is no traffic jam on the way home. Too bad I had to face an asshole on the road (with a Johor plate - that state really has some demented drivers) and I had to give him the finger. Anyway, I wanted to do some shopping for my housemoving and ended in Jusco's Home Centre. While I was there, I whiffed the familiar fragrance of assam laksa so I investigated and found myself at Home Centre's cafe. Unfortunately, the staff didn't seem bothered to serve me so I fled to Mark's Assam Laksa instead (next to Johnny's Thai Steamboat - funny how they all have their owner's name). Here's a view of the service counter where you decide and place your order.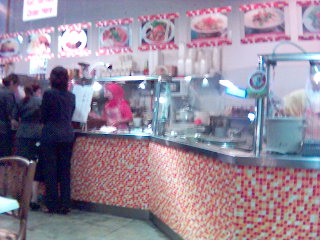 Copyright (c) Kelvin Tan
So here's their chiew pai (specialty) i.e. the assam laksa. I've eaten at this place several times before but I think lately their gravy has become a bit watery (and the bits of fish quite inconsistent).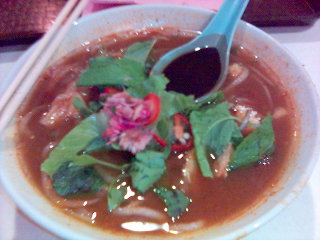 Copyright (c) Kelvin Tan
Knowing me, the assam laksa would be insufficient, so I ordered a plain nasi lemak with a fried egg and some curry on the side. This was much better (although the boiled egg was a bit dry).
Copyright (c) Kelvin Tan