Pigging out in Melaka...
All about Melaka food in this posting. Some of the dishes I pigged on over the weekend. Here's my favourite daytime heekiaw mee, complete with teochew chilli sauce all over the noodles. I have a night favourite but that's another story...
Copyright (c) Kelvin Tan
At the pokok ketapang at the head of Tranquerah road, you have a quaint but ancient hawker centre. This place has 2 fishball vendors... this one is the one that comes later in the afternoon. Good nonetheless...
Copyright (c) Kelvin Tan
Here's the stuff I bought from him. Normally I can wallop RM10 worth of it but since I just had the heekiaw, I bought RM5 instead. You get fishballs, yamballs, fish skin fritters and slices of cucumber. Comes with teochew chilli and a sweet tnee-chio which is a type of syrup made from sugar and onions.
Copyright (c) Kelvin Tan
For supper, I had char tau kueh aka loh pak koh (radish cake) bought from Jonker Walk. Melaka style is normally blacker than its Penang counterpart because of the thick black sauce used.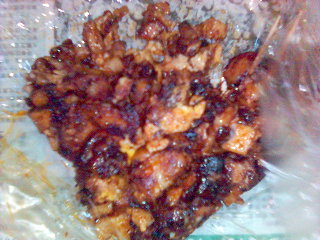 Copyright (c) Kelvin Tan